[AFT Event] Group Visit to Singapore Dragonfish Farm
[AFT Event] Group Visit to Singapore Dragonfish Farm
Dated: 30th JULY 2011 (Saturday)
AFT Representatives:
Angelo (Photographer / Chairman of Event Organizing Committee)
Blur (Event Organizing Committee)
Iaro (Event Organizing Committee)
neosh
aro-spino
Attendees:
Ranmaru1987
Matthew
Matthews guest
Botak
jiahuang
jiahuang girlfriend
jiahuang friend (mr.q)
arocomm
arocomms friend
arocomms friend
paradize
FOREWORD
Brief introduction
to SINGAPORE DRAGONFISH FARM
Far away from the buzz of the town, in a serene tranquil environment lies a relatively new Asian Arowana Specialist farm (CITES certified): SINGAPORE DRAGONFISH FARM (SDF). Its Boss, Mr Leng (aka Ah Leng), has had vast experiences in arowana keeping and breeding. A disciple for 4 years under one of the legendary pioneer of local arowana breeder, Mr Lee Ah See, owner of exisiting Singapore Arowana Breeding Farm (SABF). It took him many hardships and endurance to setup this new farm and turned it into a successful arowana breeding farms in the local scene. Ah Lengs farm is specialized in mainly crossed back arowana with promising Golden Head quality.
A gentle giant (Not for sale)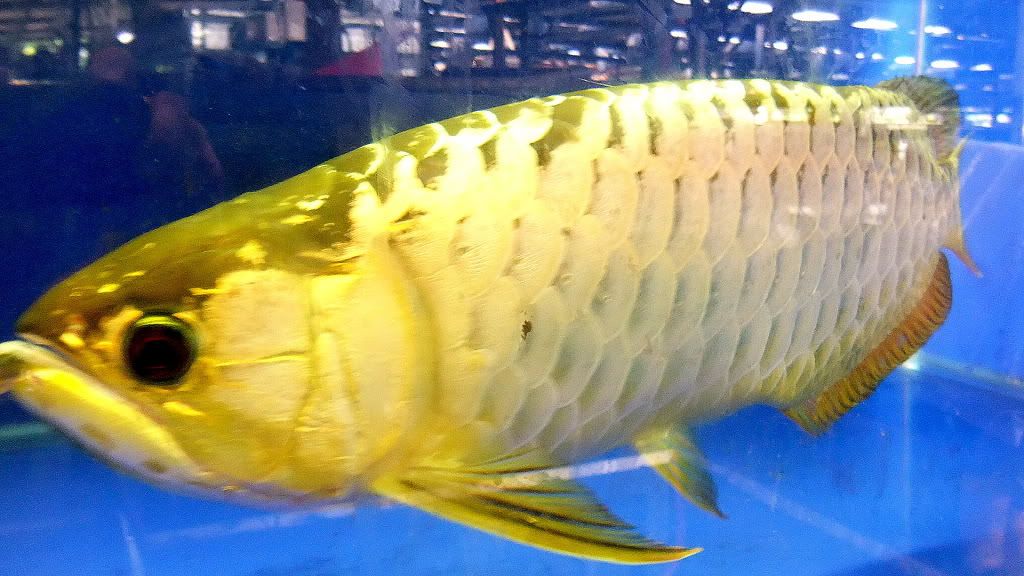 There... there!! I want that piece for tonights dinner (Hong Kong Steam)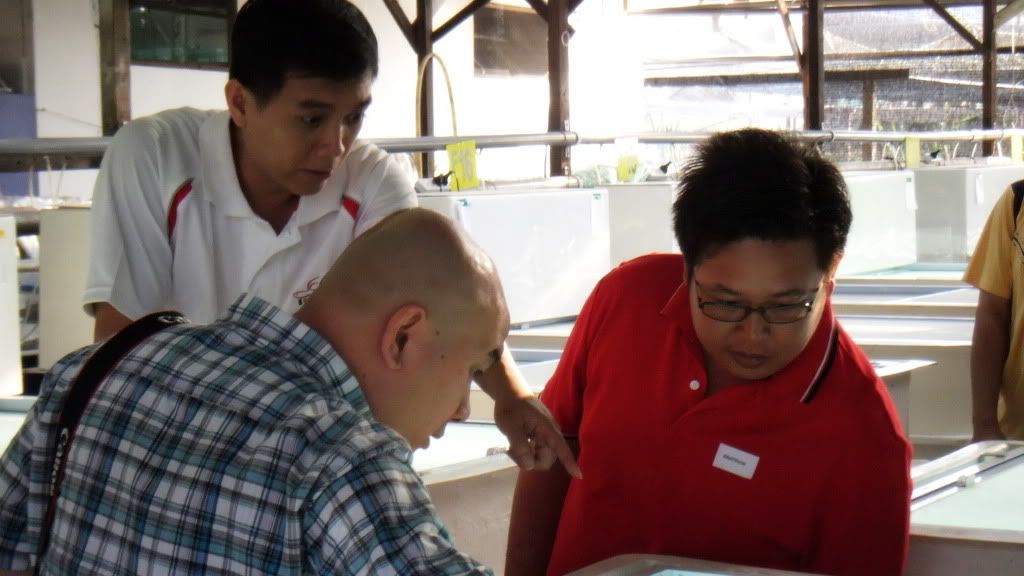 Boss Ah Leng entertaining queries from hobbyists.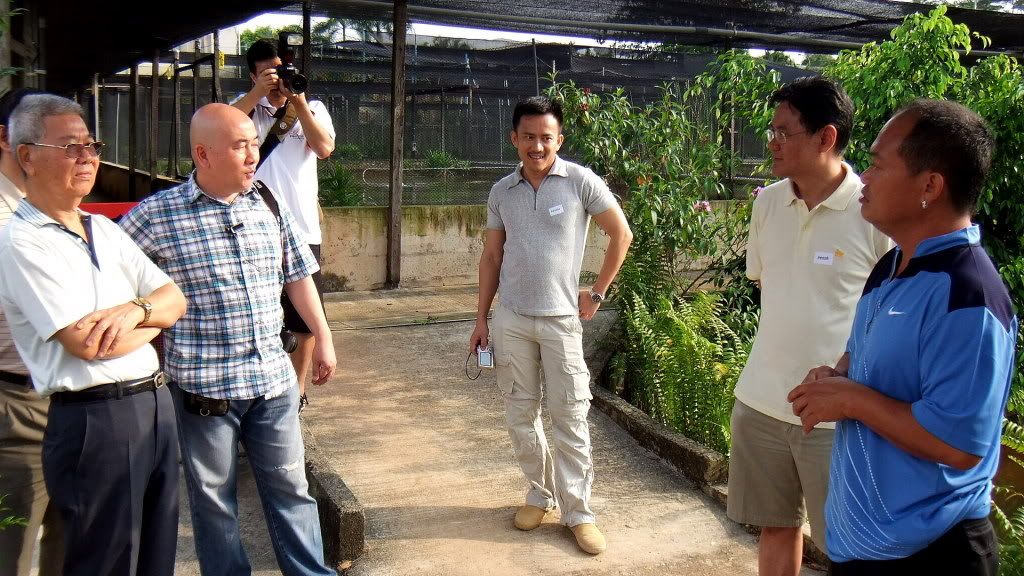 Farms scenery...
Own time own target.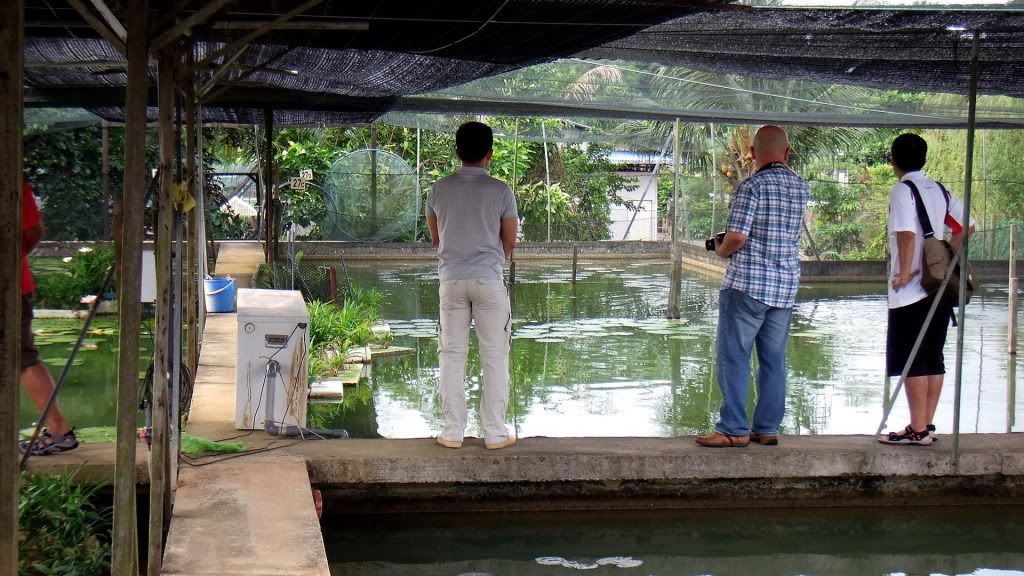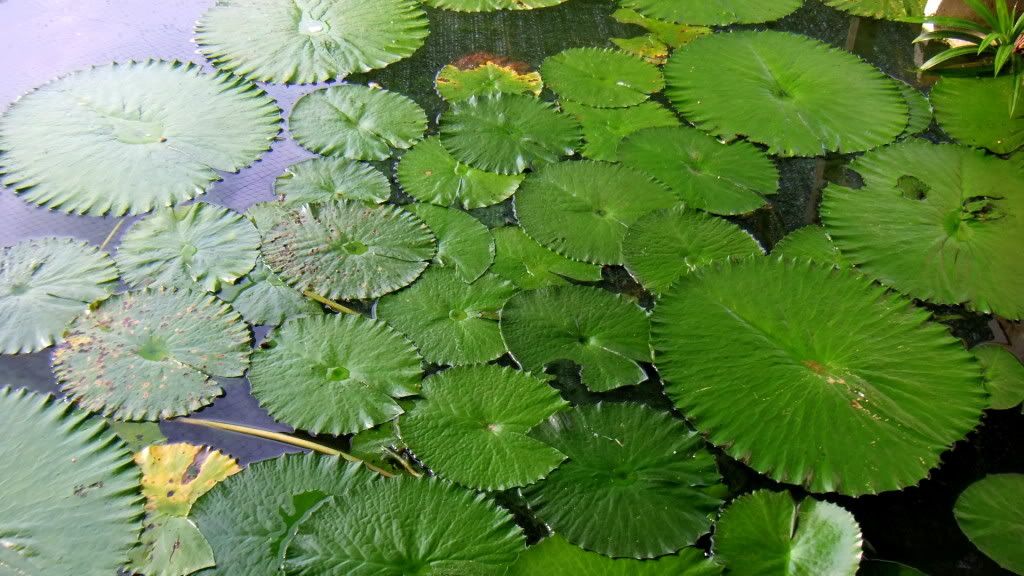 Checking their shots to make sure they can all make it for the Photography Contest.
Ponds viewing... single file, slowly following the leaders in front.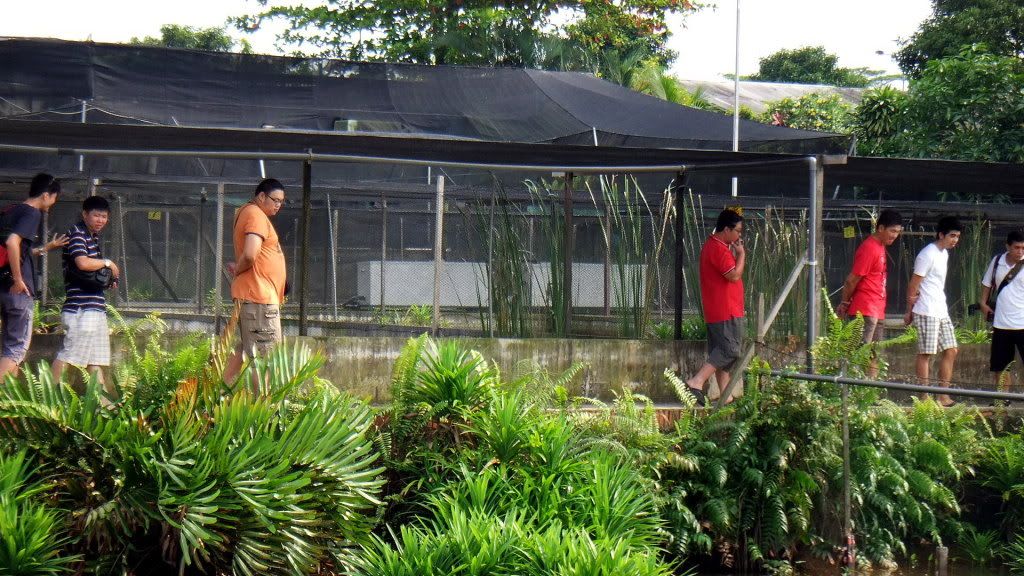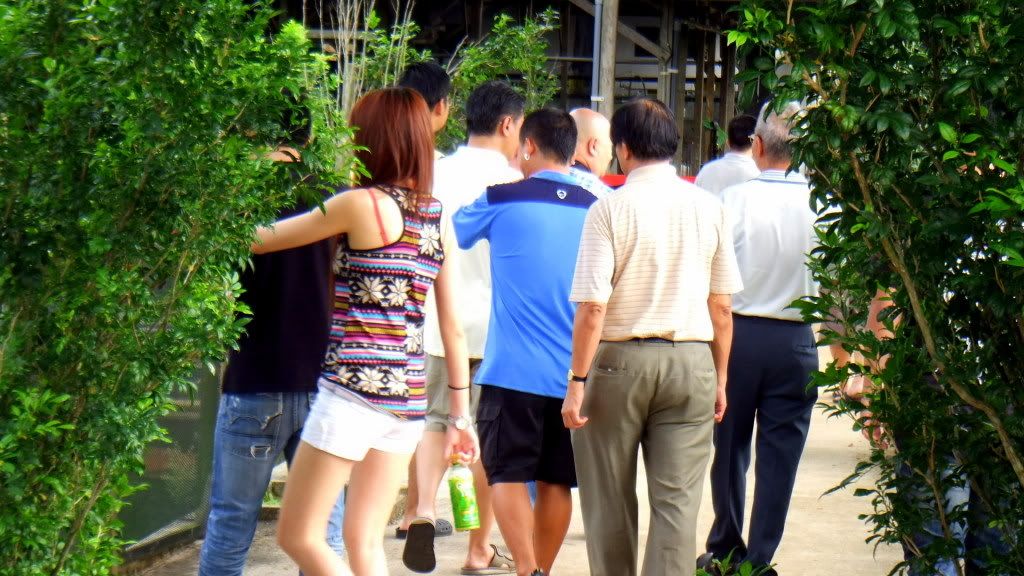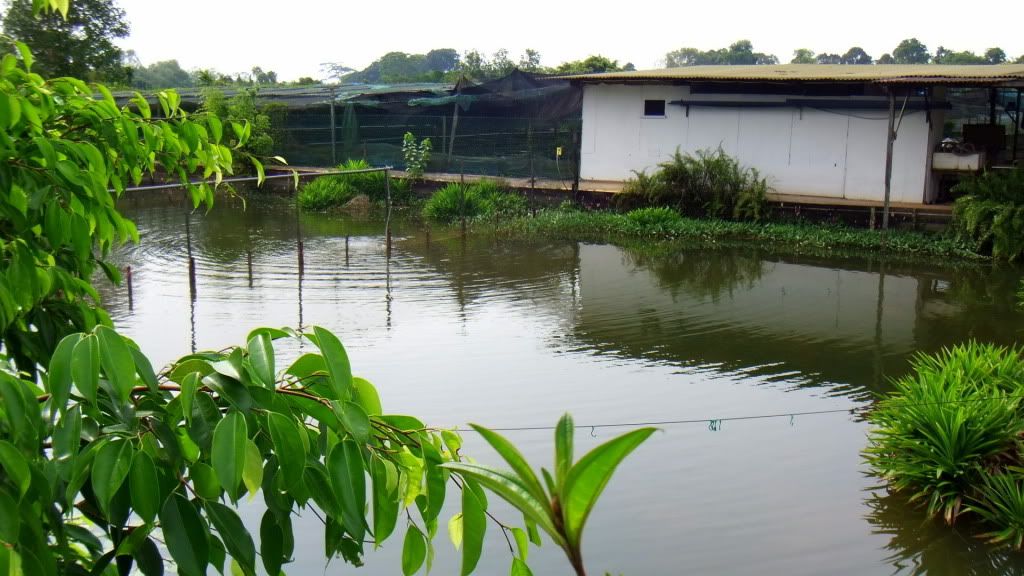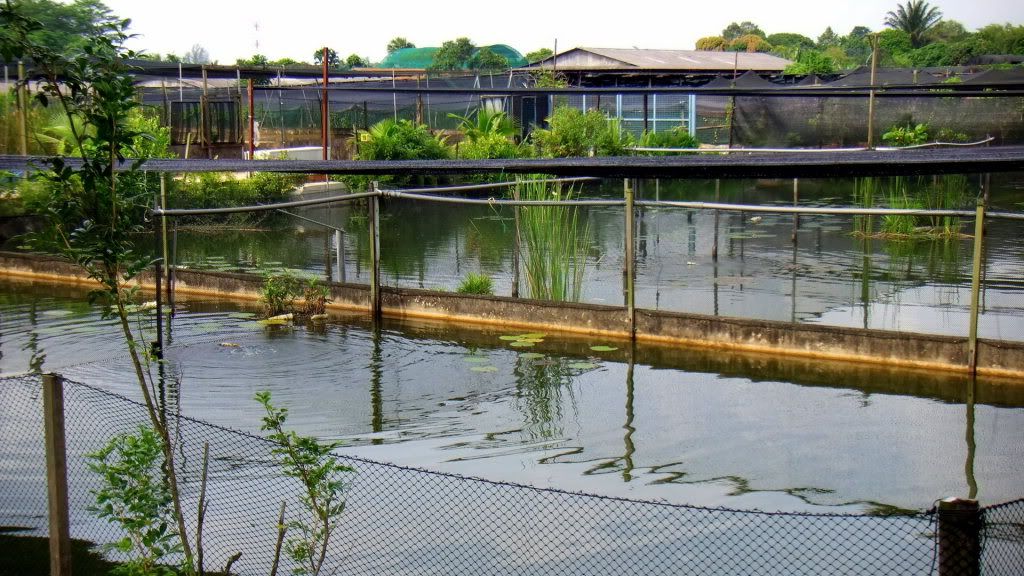 Taking a break...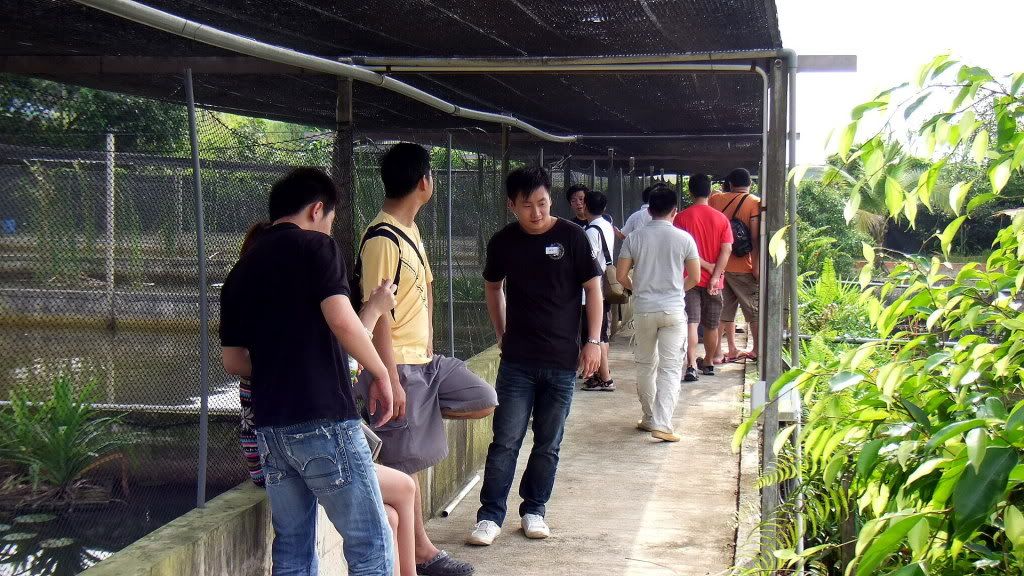 Our Boss Neosh talking to 2 shifus with vast arowana keeping experiences.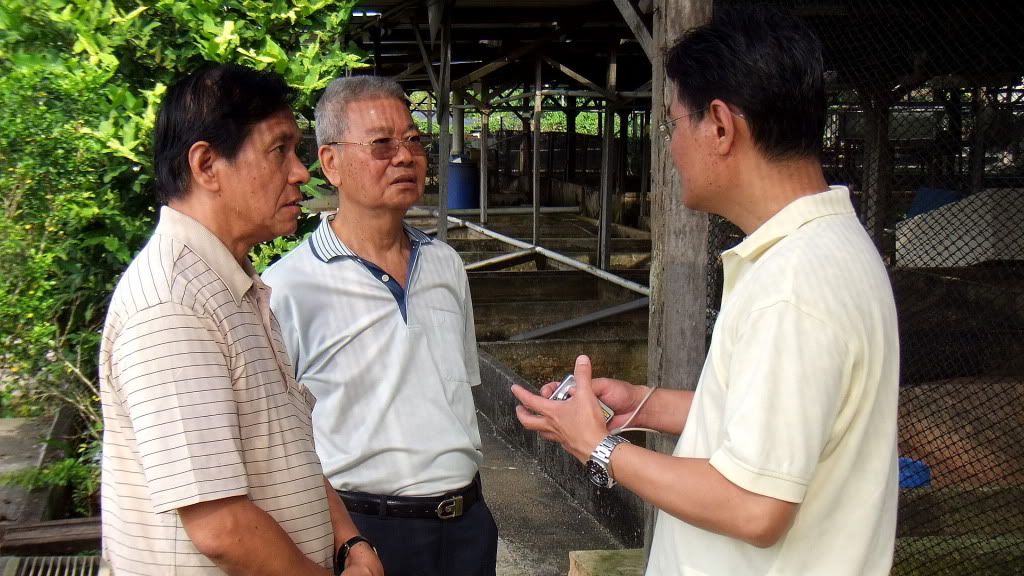 ==comments==
Checkout these babes...
Black Landing Ship Tank on the prowl...
>Last inspection before heading for refreshment.
T-Break!! Wheres everybody?
Who want to buy fish? Lets draw lot to determine who gets to select first!!
Scrutinizing all xb on promotion.
Other xb arowana fries in stock.
Incubation in progress... shhhh....
>Carefully bagging the arowana for buyers. Easy does it.
Tagging process.
Prized possession... must by 4D hor
Our happy buyers with their new catch!
>Look what Ive found on the other end of the farm.
>Well Done to our Event Organizing Committee (Angelo, blur Iaro) for your untiring efforts contribution in making our 1st Farm Visit to SDF a success. AFT would also like to thanks all participants for their kind attendance in making this a fun and fruitful event. For us to serve you better on future events / activities, wed appreciate your valuable inputs / feedback in this thread as well.
Last but not least, for those who took photos in the farm, do share your pics here too.
Note: For those who wished to take part in our Photography Competition, do post your photos in a separate thread to be created by Angelo in due course.
>really thanks to AFT and committee members for organising such a wonderful trip!!! and of cos dragon boss for his hospitality and answering our questions.. w/o them i would not have been able to buy my first xb and such a beautiful one.. at such a great price.. really friendly members and committee.. next time no need buy so much food!! cannot finish!! btw.. anyone bought our tag number? number jump sia..1092..
>wow...looks like a good trip. all aros very nice...the tagging process video well taken. wonder whose aro is that being tagged? very solid piece.
>Originally Posted by shaiful wow...looks like a good trip. all aros very nice...the tagging process video well taken. wonder whose aro is that being tagged? very solid piece. hehe.. that piece is mine..
>well done guys.. sorry we was late ... good job aft for organising this wonderful farm visit ...
>Page 1 of 3 123 Last Jump to page
Golden Arowana Northland Rice and Rice.
Arowana Picture Wallpaper@
The most beautiful pictures of Arowana#
Arowana japonica rice?
Arowana Fresh Rice Komachi is several levels*
Arowana Sushi Rice/
ASIAN AROWANA:

The arowana that Im planning to buy